Originally called "The Famous Clothing Company." Later it was renamed "Smith's Money-Back Store and Money-Back Smith." You probably knew it as Smith's Department Store.
William Smith founded the first store in Oakland in 1885 (according to the Oakland Tribune)
Unique Nickname
"Money Refunded If Goods Are Not Satisfactory."

Oakland Tribune
Willam "Money-Back" Smith
His friends, relatives, neighbors, and patrons were so used to the policy of 'money-back" being associated with William Smith that became his nickname.
First Store
The first store was on Broadway, between 7th and 8th Street, later moving one block to 9th Street.
Brilliant Opening
The Famous Clothing Company proprietors held a grand opening reception on March 16, 1892, at 909 and 911 Broadway.
In 1896, Smith chose a new location at 10th and Washington, where the firm remained until 1912.
They then moved to 12th and Washington, which was enlarged and modernized several times.
Another New Location
By 1912 the store was located at 12th and Washington Streets, and it was called "Money-Back Smith."
"Charge It" Plan
Breaking all precedents, Money-Back Smiths had for 54 years had a "cash only" policy offered a liberal 90-day charge plan. The plan had no downpayment, no interest, and no carrying charge.
More than 10,000 Eastbay residents opened accounts in the first six months.
"Charge it!"
They made the term "Charge it" a common word in the vocabulary. Smith declared September 27, 1940
55th Anniversary
"Founded back in 1886 – literally the horse and buggy days of the city, the store has grown with Oakland."

Oakland Tribune September 27, 1940
"We Couldn't possibly cut a birthday cake large enough for all the of our customers, and so were cutting prices instead."
Expansion
In 1941 the store embarked on a program of remodeling and expansion that doubled its size. Two additional floors were added, which gave them three floors for selling merchandise.
In 1945, the store acquired 30,000 Sq.Ft. of additional space in the Blake Building on Washington Street.
First Western Bank Building
In 1955 the old Henshaw Building at 14th and Broadway, built-in 1891, was demolished. The Henshaw building housed the MacDonough Theatre, one of Oakland's first legitimate showhouses.
The First Western Bank Building was completed in 1958.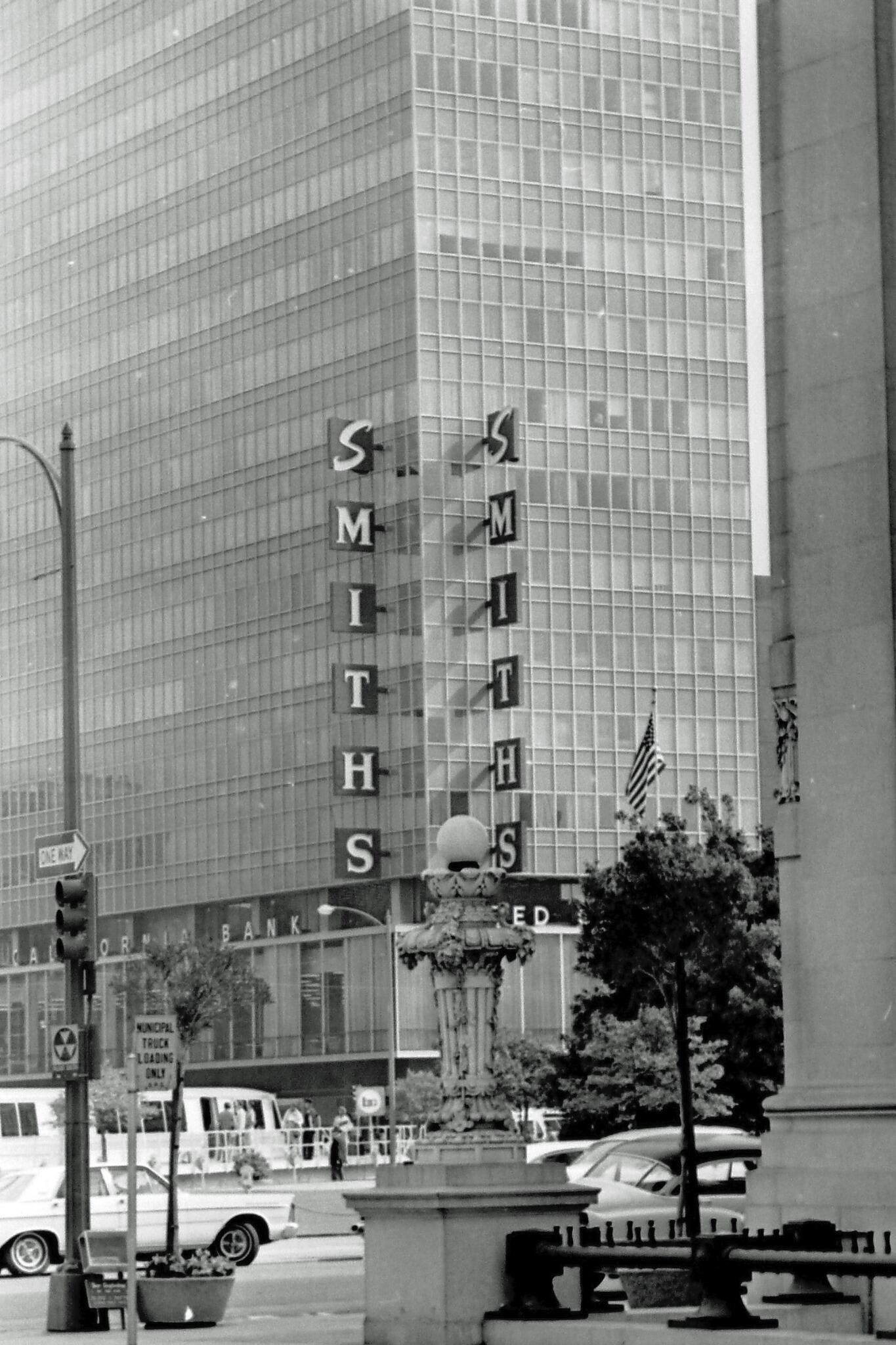 Location : 1330 Broadway Oakland CA
Smith's Clothiers
Smith's opened 24 stores throughout Northern California and Nevada.
In 1988 after 102 years in business, closed its doors.
More Info:
There is some confusion as to when the store was located where. I tried my best.
The End